Is a calorie a calorie?
A common, yet complicated question.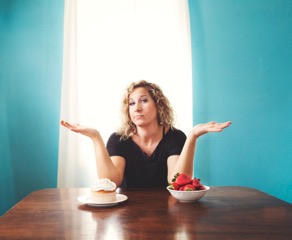 By definition, yes a calorie is a calorie. A calorie is the energy needed to raise the temperature of 1 gram of water through 1 °C. Also defined as a quantity of food capable of producing such an amount of energy. *according to webster.com So in a nutshell we are talking about energy. And the first law of thermodynamics is that energy cannot be created nor destroyed, but only transformed.
However on the flip side, common sense tells us no, all calories are not created equal. Evan a grade school student could tell us that 100 calories of ice cream certainly doesn't have the same effect on our bodies OR our mind as 100 calories of vegetables. After all, the human bodies are very complex.The average active female needs about 2,000 calories a day and 1,500 calories to lose one pound a week.
Take a look at these calorie comparisons and see what you think.
How would each comparison effect YOUR body?

1500 Calories
VS.
1500 Calories

1500 Calorie Day
2 eggs, 1/2 Tbl. coconut oil, 1/2 c berries, 1 slice whole wheat toast
1/2 c low fat cottage cheese, 14 almonds, 2 rice cake
4.5oz chicken, 4 oz sweet potato, 1/2 c vegetables
4oz talapia, 1/2 c rice, 1 c vegetables
1 scoop protein powder, 1 c berries
4.5 oz chicken, 1/2 c vegetables, 1 oz avocado
1502 Calories, 138 g Carbohydrates, 44g Fat, 143g Protein, 38g Sugar
1500 Calorie Day
Chili's Sunrise Burger & side of french fries
1510 Calories, 108g Carbohydrates, 90g Fat, 67g Protein, 14g Sugar
One Drink
VS.
One Meal
Grande Pumpkin Spice Latte
380 Calories, 52g Carbohydrates, 14g Fat, 14g Protein, 50g Sugar

One Meal
4oz grilled chicken breast, 3oz baked sweet potato, 1c steamed vegetables AND 5oz red wine
398 Calories, 42g Carbohydrates, 3g Fat, 27g Protein, 16g Sugar
990 Calories
VS.
990 Calories
990 Calories in one meal
2 slices of Pizza Hut sausage & pepperoni, 1 bread stick & 12 oz Bud Lite
990 Calories, 98g Carbohydrates, 45g Fat, 38g Protein, 8g Sugar
(this leaves you with only 510 calories for the whole rest of the day)

990 Calories in a day
2 eggs, 1 slice sourdough bread, cup of black coffee
Chocolate chip cherry torte Larabar
Mixed greens salad with piles of vegetables, 3oz grilled chicken, 1oz cheddar cheese and 2 Tbl. yogurt ranch
4oz Greek yogurt, 1/2 c berries
4oz lean beef, 1/2 c vegetables
990 Calories, 74g Carbohydrates, 43g Fat, 85g Protein, 36g Sugar
One Meal
VS.
Three Meals & One Snacks
One Meal
Texas Roadhouse butter on 2 rolls, 1 glass sweet tea, 8oz steak & steak fries
1554 Calories, 153g Carbohydrates, 71g Fat, 76g Protein, 55g Sugar
Three Meals & One Snack
2 scrambled eggs & 1 slice sourdough toast
1c cottage cheese & apple
bowl of vegetable soup & 1/2 turkey sandwich on wheat
4oz lean beef, 10 tortilla chips topped with 2oz cheese, salsa & vegetables
1362 Calories, 113 Carbohydrates, 62g Fat, 108g Protein, 21g Sugar
Okay now that you have taken a look at calories vs. calories, let's get real and apply this to LIFE! Do I think you should never treat yourself to going out to eat, a fancy coffee or pizza? UMMMM, NO! Like no way could I go without having starbucks (I sip on a latte as I type this post for you). I love, totally love, my share of pizza and donuts… well, to be honest I am slowly getting away from the pizza indulgence and moving to a fat juicy burger indulgence. What I am saying and want you to see is that these 'treat' calories add up and add up super, super fast!! They do nothing positive for your body and a laundry list of negative things to it.
However, we are humans in a junk filled country. So what I do want you to see and pay attention to is how one meal out to eat can be all the calories you need for the day. So we need to be paying attention to what we are taking in and most importantly HOW OFTEN we are taking in treats. A treat to me is planned, well thought and only every once in awhile. If I am having Starbucks on Monday to get the week started, meeting my girls for a couple glasses of wine on Tuesday, getting through hump day with Startbucks and then eating out once during the weekend and giving in to Grandma's homecookin' on Sunday then that's A LOT of treats. So many treats that it isn't a treat but more of a way of life, my diet.
What are your favorite treats? Do you have a strategy to tackle the week and keep the treats limited?